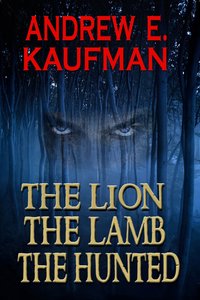 Andrew E. Kaufman's second thriller delivers the goods. The Lion, The Lamb, The Hunted.     
Tabloid reporter Patrick Bannister begins to suspect that his abusive mother, now dead, and his uncle had more than a hand in a child kidnapping and murder when he was young. He's hated the pair of them for as long as he's known them (the novel alternates present scenes with those of his childhood, making it abundantly clear just why he does), but he can't believe  this perfidy of them.     
Hiding behind his reporting  job, Patrick follows the clues down one bloody track to another, finally ending up in small-town west Texas where he enlists the help of a newspaper writer/editor who becomes his friend, and manages to put everyone else in town on the brink of violence with his questions.     
As Patrick and his partner in investigative reporting get closer and  closer to The Truth, and an incomparable villain emerges to scare the hell out of them, they belatedly realize that the hunters have become the hunted. This is one novel that doesn't leave you wondering what happened and why at the end; Mr. Kaufman lays it all on the line for you.     
Better than his first, While The Savage Sleeps. Get it here–     
WHAT I READ THIS WEEK–Sourcery by Terry Pratchett. Raise The Titanic! by Clive Cussler.