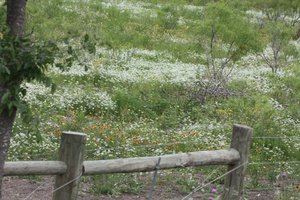 The Cowboy's Baby is getting a book launch party next Saturday night at the Lockhart library and you're invited. From 6-7 pm August 7 some of my friends and family and the Dr. Eugene Clark Library will help me celebrate the publication of my first novel. Our party is open to the public. This is in Lockhart, Texas, mind you. We're close to Austin and San Marcos and Luling and Bastrop. www.lockhartlibrary.org.
We're serving tasty snacks (including delicious cupcakes from the Baker's Rack), giving away some twenty hard copies of chapter one, giving away a few free books and maybe even a Kindle. (How do you give away free copies of an electronic book, I hear you ask. Well, we pay you to buy it and take it on your honor that you will. It's only $2.99).
We're showing off the book cover poster Molly made for us. And we're displaying the Kindle application downloaded to three of the library's computers. The Cowboy's Baby is right there to read, along with Pride and Prejudice and Treasure Island and more. They look fantastic. There will be no readings and no speeches. Think cocktail party without the booze. Roxanne wants us to set up our Kindle DX and have the computer read TCB to us while we smooze. I don't know about that.
This book launch party is an example of what a writer's life entails, and it's also part of my marketing strategy, which is part of how I wrote and published my first e-book. Generally a book launch would include book signings. Well, this is an electronic book, so there's nothing to sign.
Honestly, I don't expect anyone to want my autograph next Saturday, but I'll sign a piece of paper if wanted; after all, I'm the little girl who once asked for the autograph of the uncle of one of her grade school friends just because he was a soldier. Combat was a hit TV show at the time (this was the sixties) and I was army-crazy, even had the helmet and mess kit set from the show. (Wish I still had them). So I'll take a pen just in case. This type of marketing used to be handled by traditional publishers, but more and more of  it is now the responsibility of the author on her own, and in the case of a self-published electronic book, it's all the author's responsibility.
Writers get out there and sign books and talk to readers. The emergence of electronic books requires some creative thinking to get the same results. Hence the launch party, and the blog, and the new Twitter account. Both The Cowboy's Baby and I are just getting started. Come out next Saturday and meet us.
The photo in this blog was taken by Roxanne Rix.
This week I read Blockade Billy by Stephen King. It was really short. If you like baseball you'll like it better than if you don't. It's good. www.amazon.com/Blockade-Billy-ebook/dp/B003HKR18Y