One of the most horrific murders ever written opens Andrew E. Kaufman's debut mystery novel While The Savage Sleeps. In quiet little Faith, New Mexico, someone channeling rage-incarnate goes-to-town with farm implements while on a lonely and abandoned road the police use for naps while on duty. With one of their own fatally violated by this monster, the police are frantic to find quick answers. But before they even get the investigation off the ground, their nice little mountain town is hit by a new series of even more brutal and unexplainable murders, with no sign it's ever going to stop.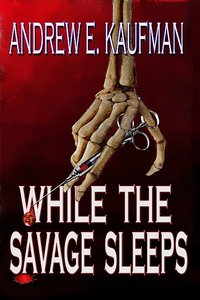 At the same time a companion storyline is developing across state. A doctor, who also happens to be a psychic, is clobbered with disabling visions of mysterious, very ugly goings-on at a hospital circa WWII, and determines to come to the solution of this mystery or die trying.
If you haven't seen the movie trailer at Mr. Kaufman's website, take a look. Disturbing doesn't even begin to describe it.
Strong storytelling and vivid description combine, and as the two stories merge, While the Savage Sleeps gives up its secrets.
WHAT ELSE I'VE READ THIS WEEK–Tarzan and the Golden Lion by Edgar Rice Burroughs.
Photos courtesy of  Andrew E. Kaufman.