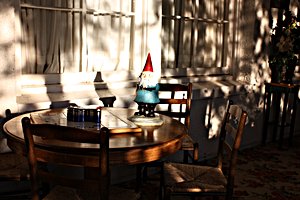 I'm going to jump forward about a year to when I should be blogging about how I wrote Arroyo instead of  The Cowboy's Baby. This would be that blog.
Early fall last year I woke up after a dream about Stephen King who was probably in my head because I'd just finished reading UR, which I enjoyed, and because my sister Roxanne had entered his Stephen's Empire photography contest. Anyhow, as I was getting dressed and the dream was fading, I thought about why Stephen King is so good—-partly it's the way he uses a lot of contemporary everyday detail in his stories. His characters, for example, don't reach for the toilet paper, they grab the Charmin and then they gripe about how much the price has gone up in the last couple of years. They don't drink soda pop, they guzzle Cherry Dr. Pepper and then spike it with the Mexican vanilla they brought back from the Carnival Cruise they took to Cozumel during Hurricane Ike.
I had an image of fig newtons during that thought. I won't say any more than that. I don't know right now when fig newtons were invented, but they went right into my 1880's novel that night as I wrote on it.  And better yet, I had a maliciously good idea crop up right after this one involving the new character I'd just introduced that I felt would change the whole tone of this section. Both were courtesy of the Stephen King dream, and to the fact that I got it down on paper ASAP. Thank you, muse.
Arroyo stood at 33,762 words at that time, which was closed to half-done if I was aiming for the 80k limit.  And for those of you who are interested in how something came into being, this was how my character Ramona Livingston finally fell in love. And this isn't a romance novel, guys, it's a pulp adventure horror fantasy science-fiction romp through the American West in the 1880's, primarily Texas. How do you like that combination of genres?
Back to the present. Assuming I remembered why my characters suddenly had fig newtons in their hands a year from when I wrote it, the above would have been my blog. Photo by Roxanne Rix. This is the Travelocity gnome we bought from The Amazing Race site and took with us to the Davis Mountains on vacation a short while back. This is the veranda of the Limpia Hotel in Fort Davis, an absolutely great place to stay. More of Hubert to come when I get back to Arroyo.
What I read this week—The Librarian On The Roof by M.G. King, Illustrated by Stephen Gilpin  ISBN 9780807545126  and Cybill Disobedience by Cybill Shepherd and Aimee Lee Ball  www.amazon.com/Cybill-Disobedience-ebook/dp/B002KAOQSK.