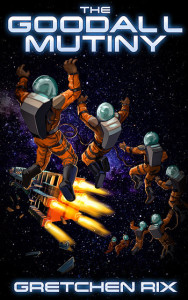 THE GOODALL MUTINY is published!  See it here at http://amzn.com/B01CIQD61S
In case anyone is clamoring to know what made me write a science fiction adventure novel suitable for the YA audience as well as science fiction fans….the answer is that my sister made me do it.
That's part of the answer. The rest is that my first reading love was science fiction, and has remained so. Time to write in that genre at last.
WHAT I READ THIS WEEK:  Gentleman Jole and the Red Queen by Lois McMaster Bujold. The Bazaar of Bad Dreams by Stephen King. Vigilantes by Kristine Kathryn Rusch.