THE GOODALL MANIFEST is almost written.
It should have been finished more than a month ago, but I had other commitments I chose to honor. I edited and then proofread a friend's new novel, I judged an important romance writer's novel contest, I tried to catch up on the sleep I've been losing. Plus, we were out selling paperback versions of my books this Spring.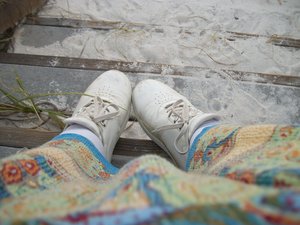 And I read an awful lot. The accompanying photo I took of my feet on the beach in Florida ( I think it was Florida) is somewhat accurate for this post, although I was mostly at home both working on the book and thinking of working on it all along. The photo is several years old.
I'm enjoying this challenge (science fiction action adventure/mystery) more than I can say. The story just took a turn I hadn't expected, too.
There's going to be a third Goodall adventure, and a fourth, and a fifth. Any ideas you have for a title for the third story, let me have them. Has to follow the set pattern THE GOODALL something or other. Send suggestions to rrix@austin.rr.com.
Look for THE GOODALL MANIFEST late June, 2016. You'll be able to get it in person at Austin's Armadillocon in July if you attend. It's always lots of fun.
P.S. This photo of the ape lying on the branch enjoying himself is also illustrative of this topic. (Photo by Roxanne Rix)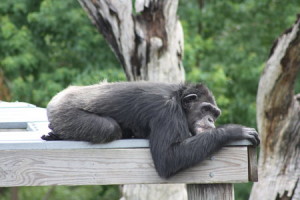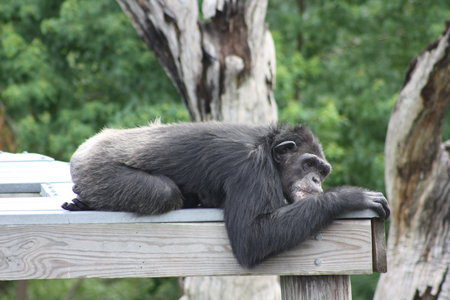 WHAT I READ THIS WEEK:  Webcam by Jack Kilborn. A Dance With Dragons by George R.R. Martin.
You can get audio books of my work now. BABY SINGS THE BOOS
http://www.audible.com/pd/Fiction/Baby-Sings-the-Boos-Audiobook/B01DCNGGIQ
and THE COWBOY'S BABY 
http://www.audible.com/pd/Romance/The-Cowboys-Baby-Audiobook/B01E06UF2M
Ebooks at
http://amazon.com/author/gretchenrix
and through Smashwords.