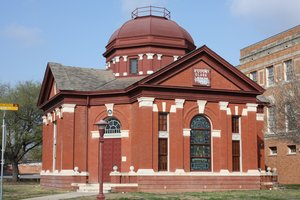 "Aren't those the Creighton Ladies Garden Club experimental flowers he's dining on?" Marcia commented. She had moved up beside him virtually unheard and seemingly recovered from her outburst. Ellison smelled Marcia's light perfume but didn't let it distract him this time. What was that cat doing there?
"Whose cat is that!" he demanded. He knew that none of the properties abutting the golf course even had pets.
"I don't know," she said as Ellison frowned. He turned back to the window. The cat had disappeared. Ellison again ran his fingers through his hair, muttering.
Something pink in the cool green of the grass caught the corner of his eye and he had a sudden urge to get that cat and, then what? Turning on his heel, he brushed past Marcia and rushed to the exit. Once outside in the early morning humidity, Ellison retrieved the collar and found the little monster. The cat was slyly hidden in the shade of the small garden and was still eating the flowers. Ellison marched resolutely towards him, twirling the collar in his hands.
Marcia stopped him. She had quietly followed him out. She touched his hand. "Don't scare him away," she said. "What does it say on the collar?"
He looked. Then he looked at her. "It says 'Baby Lennon'."
Marcia was the first to laugh; her infectious noise making Ellison laugh as well as he dangled the collar in his hand. He watched the little white monster eating flowers and wondered about the name.
"What a damned name," Marcia said at last. "But…" She stopped. "You don't suppose this is Mrs. Lennon's cat, do you?"
"I sure do," he said. Simultaneously they had the same thought and tumbled vocally over each other in their eagerness to voice it.
"We can pretend he is, anyhow!" Marcia exclaimed.
"It will give me a lead, a reason to call. Something she'll be grateful about when it leaks out about the golf course on her property." Ellison babbled, delighted by this stroke of luck until Marcia's slowly emerging dour expression registered on him.
"Don't you have to catch the cat first?" she asked, pointing to a white tail disappearing quickly into the more active area of the golf course.
To be continued…The Cowboy's Baby by Gretchen Lee Rix, copyright 2010.  
www.amazon.com/The-Cowboys-Baby-ebook/dp/B003UYUVZC.
WHAT I'VE READ THIS WEEK—The Gods of Mars by Edgar Rice Burroughs, Bud, Not Buddy by Christopher Paul Curtis, and Demon Ex Machina by Julie Kenner.   
USELESS INFORMATION—I wrote portions of The Cowboy's Baby in the library featured in this blog's photo (photo by Roxanne Rix) and will be writing some of my new novel there as well.