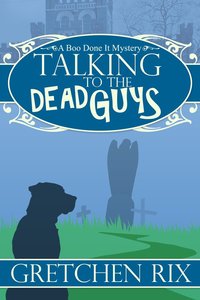 My new novel TALKING TO THE DEAD GUYS is now available on the Amazon.com Kindle (soon on the Barnes & Noble Nook, too).  See it at  http://amzn.com/B0094FBA8S
This is a Texas mystery about a dog, strong women, and small town living (or is it dying?), sort of a Texas cozy. Cue in the theme music from "Dallas."
Shoot! I'll cut right to the chase. This is about how me and my sister's mastiff Boo Radley dragged me off my feet during the damned cemetery tour in Lockhart right onto a dead corpse. And that's just chapter one.
Welcome to Lockhart, The Barbecue Capital of Texas, where there is more than indigestion brewing.
This is the newest novel from Gretchen Rix (me), the author of THE COWBOY'S BABY,  ARROYO, and several quirky short stories.
WHAT I READ THIS WEEK—The Hobbit by J.R.R. Tolkien.