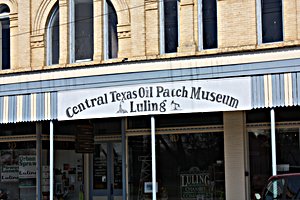 The Central Texas Oil Patch Museum in Luling, Texas, hosts its annual MEET THE AUTHORS event Saturday, March 23, from 11:00 am to 3:00 pm. Come participate in a group autographing session that includes local historian and writer Donaly E. Brice and Luling resident Chuck Parsons.
Also expected to attend are Judy Barrett (Recipes From and For the Garden), Wanda Carter (United Daughters of the Confederacy Cookbook), Kemp Dixon (From Plymouth Rock to Rocky Creek), Peggy Engledow and Victoria Daywood (Bad Boys of Caldwell County), Patti Jones Morgan (Ladies About Town), Max Oliver (Next Boom), Candice Wiester (Country Proud), and Patti Shafer (the Annie the Texas Ranch Dog series).
And while you're there, visit the museum, eat at the famous City Market bbq restaurant or the charming 1896 Tavern at the Francis-Ainsworth House. Take a peek at the San Marcos River from the Zedler Mill, and take the pump jack tour (look it up).
Spring has sprung. Bluebonnets are out (but not for long). Do something different this weekend.
Photograph by Roxanne Rix
You can see my novels and stories at
http://amazon.com/author/gretchenrix
WHAT I READ THIS WEEK: Timecaster by J.A. Konrath. The Big Year by Mark Obmascik.