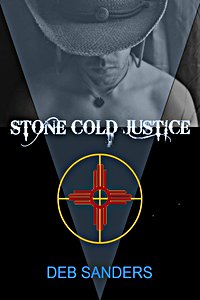 Here's a new romantic suspense novel to while away your weekend without regret: STONE COLD JUSTICE by Deb Sanders. It's paced to be a very quick read, which is another way of saying you can't put it down.
Maggie McGregor returns to her childhood ranch when her parents die only to find herself getting shot at the minute she gets there. Handsome, sexy cowboy Nick Stone saves her, but then she kicks him in the balls for his efforts. Sexual sparks fly, of course, but there are enough different suspense threads running through STONE COLD JUSTICE to keep you riveted to the story.
Available at Amazon.com and Smashwords.
WHAT I READ THIS WEEK—Stone Cold Justice by Deb Sanders,  Stirredby J.A. Konrath and Blake Crouch.
http://amzn.com/B00679V1EM   and  http://smashwords.com/books/view/106696
Stirred can be found at http://amzn.com/B0050KIRDC
And my latest novel Arroyo is at http://amzn.com/B0067NCEJ4 and http://barnesandnoble.com/c/gretchen-rix  and at http://smashwords.com/books/view/105559.