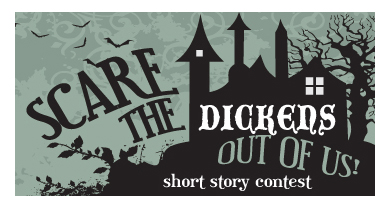 I am officially notifying everyone that the Scare The Dickens Out of Us ghost story writing contest is up and running for its third year. Full contest information and rules are available at www.clarklibraryfriends.com.
Entries are accepted starting July 1, 2011 (we don't disqualify anyone for entering earlier). The deadline is October 1, 2011 (postmarked). First place prize is $1000.00 and a trophy. Second place is $500.00 and a prize ribbon. Third place is $250.00 and a prize ribbon.
We also have a Junior Scare The Dickens Out of Us ghost story writing contest that is exactly like its sister contest except for the age restriction. Writers aged 12-18 are elibible for the $250.00 and a trophy first prize. All other finalists receive prize ribbons. If any of you have children or grandchildren in this age range who have fiction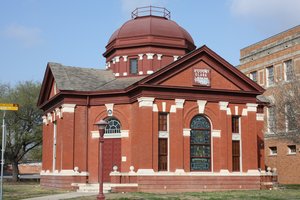 writing talent, encourage them to enter.
All we want are original, never before published ghost stories no longer than 5000 words. The stories can be scary, or they can be romantic. They can be ugly, or they can be funny. They can even be children's stories (however, don't enter the Junior contest if you are an adult, even if you have written a children's story. ) There are no restrictions beyond the word count.  BUT.  The stories have to be ghost stories. That means a ghost. Not a vampire or a zombie or a monster under the bed. A ghost.
The contest is open to anyone from any country. The only thing we ask from writers out of the U.S. is that they send the entry fee money via international money order, if possible. Oh yes. There is an entry fee of $20.00 for the Scare The Dickens Out of Us contest and $5.00 for the Junior contest. This writing contest is a fundraiser for the Friends of the Dr. Eugene Clark Library in Lockhart, Texas (see photo), which is the oldest, continuously-in-use library in Texas. The contest is privately funded. All money received goes directly to the Friends of the Library, who then give it to the library to use for whatever projects they want.
Last year we received entries from Canada, the U.K., South Africa, and Australia, as well as throughout the United States and Texas. The stories were great.  The contest is open to published and unpublished authors alike. So far, the top prize was won both years by unpublished writers.
If you have any questions you can direct them to www.clarklibraryfriends.com and I will receive them.
WHAT I READ THIS WEEK—The White Pipes by Nancy Kress, The Headless Cupid by Zilpha Keatley Snyder. And, The Death-Defying Pepper Roux by Geraldine McCaughrean. 
The link for The Death-Defying Pepper Roux, one of the best and most surprising books I've ever read, is www.amazon.com/gp/product/B0032JQ7E4.
Photos by Roxanne Rix