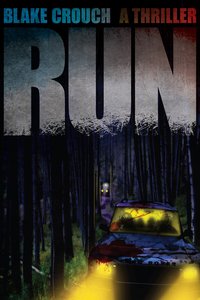 Riveting, powerful, ruthless and frightening describe what is best about the novel RUN by Blake Crouch, a thriller (or science fiction novel, depending on your interpretation). What is worst about it is more than counterbalanced by the best, thank goodness, but there are lapses here. No matter.
RUN is a throwback to the 1950's sci fi classics we used to find in the public library (John Christopher's No Blade of Grass being one), and I still love them. I loved RUN.
Due to a phenomenon in the sky (Don't we know by now not to look!), half the population of the United States wakes up the next morning fully prepared to torture and murder the ones who didn't "see the lights"; this for no reason, and even if they are  family. Right then most of the "normals" are hunted down and exterminated. The lucky ones who escape, run. This is the story.
Hard to set aside once it gets going, RUN will leave you wanting to read more Blake Crouch.
Available as an e-book for Kindle readers and apps.
 http://www.amazon.com/gp/product/B004PGNF0W
WHAT I READ THIS WEEK—RUN by Blake Crouch and The People of the Mist by H. Rider Haggard.