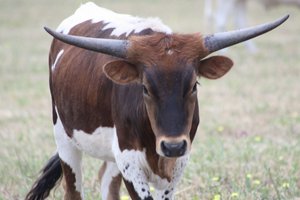 I've waited a long time to slap the title Rix Cafe American on something of mine (Casablanca, you understand), and as you can see, it's undergone a bit of a change–it's Texican now.  This blog is to be mostly a writer's blog.  Sorry, but it has nothing to do with restaurants or bars (more about that later). It will be about how I write and why, and what I write and read; it will be about the writer's life as I see it. The level I am at as a writer (in my estimation I'm about second from the bottom of the totem pole of experience and success, there being about five levels) will be relevant to many of you. 
My blog will also be about the Scare The Dickens Out of Us ghost story writing contest and library fundraiser that my sister Roxanne and I originated and coordinate for the Friends of the Dr. Eugene Clark Library.  Our library in Lockhart, Texas is the oldest continuously-in-use library in the state and is an architectural gem. Our contest is in its second year and offers a $1000.00 first prize for the winning ghost story, plus several other money-winning categories. Check it out at www.clarklibraryfriends.com. 
And, from time to time, I'll blog about things unrelated to writing, like good places to eat in Central Texas (the Cottonseed in Martindale) and interesting things to do (you just missed the corpse flower blooming in Houston, Texas, but the Magic exhibit is still there). There will be guest blogs from other writers and maybe some book give-aways. For grins, go to www.freekibblekat.com. 
All the photos you'll see here were taken by Roxanne Rix. My sister's goal is to eventually win the State Fair of Texas photography contest, or die trying. At any rate, it gives us an extra excuse to go to the State Fair each year, something we have not done regularly since we were teenagers or younger. 
Let me introduce myself. I am Gretchen Rix, and Gretchen L. Rix, and Gretchen Lee Rix and I have written a Kindle novel The Cowboy's Baby. 
www.amazon.com/The-Cowboys-Baby-ebook/dp/B003UYUVZC. 
Really good book I read this week–Revise The World by Brenda W. Clough.