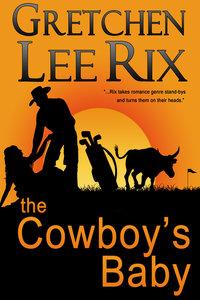 Today I finished revision number one for THE COWBOY'S BABY GOES TO HEAVEN, my sequel to THE COWBOY'S BABY which continues to sell. This was the read-through to catch inconsistencies, typos, and really badly written passages. I caught several of each of these mistakes. Next up is the edit for story.
In this initial read-through I found myself laughing out loud in three separate sections of the novel. Good for me. It's meant to be funny. But it's also meant to be romantic. In this second edit I'll be paying particular attention to the romance. Hopefully that will be it. The next step is the beta reader.
If my beta reader gives the book the A-OK, it will then go through as many proofreading sessions as I can stand. I'll have three or four other readers going through it, but ultimately I'm the one responsible. Piece of advice for you writers out there: read your novel out loud to yourself, and then read it from back to front so that the story doesn't distract you.
So, almost done with this one. Next I'll get back to the TALKING TO THE DEAD GUYS sequel TEA WITH A DEAD GAL. I plan to publish both books this year, and then go on to THE SAFARI BRIDE, another romance.
If you're interested in the originals, all three of my novels are available at Amazon.com as paperbacks, at Amazon.com for the Kindle, at the Nook store for the Nook reader, and at Smashwords for Apple, Diesel, Kobo, Sony, and just about everyone else.
For those of you in Austin, THE COWBOY'S BABY and TALKING TO THE DEAD GUYS are available at BookPeople. ARROYO will be available at the World Science Fiction Convention (LoneStarCon 3) in San Antonio this Labor Day weekend.
Photos by Roxanne Rix. Covers by Streetlightgraphics.com.
http://amazon.com/author/gretchenrix