Here it is. Ill Met By Moonlight.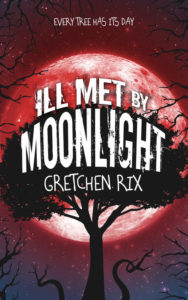 Walking death, they're called.
And those horrible macadamia trees.
But their real names are Whig, Mary Jane, and Quetzalcoatl, just to name three of them.
Trees don't walk. But here they do. In ILL MET BY MOONLIGHT they walk, they kill, they eat people, and then they—
Nope.
Telling you more would spoil the fun.
Welcome to this horror collection about the walking macadamia nut trees of Hawaii.
Believe it or not, you're going to laugh.
A new addition to the humorous horror genre.
Enjoy.
For a while it will be exclusive to Amazon. If you're in the KU program, you can get it FREE. Otherwise it's $3.99. https://amzn.com/B01N3YU7R5
Al my books are $3.99 right now except for THE COWBOY'S BABY which is $2.99.
WHAT I READ THIS WEEK:  The Girl On The Train by Paula Hawkins.  Inferno by Dan Brown. Perilous Hunt (Fallen Empire) by Lindsay Buroker.