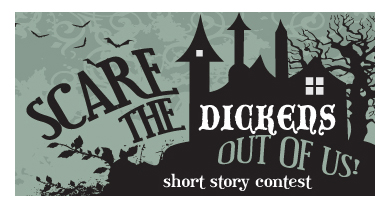 The postmark deadline for the ghost story writing contest Scare The Dickens Out Of Us is October 1, 2011. You've got just enough time to write that winning entry and get it in the mail. First place winner will get $1000.00 and a trophy. Second place will get $500.00 and a neat ribbon. Third place gets $250.00 and their own neat ribbon. The Junior contest winner gets $250.00 and a trophy. Runners up get ribbons.
Besides rewarding writers for the best ghost story we see, this contest is a fundraiser for the Friends of the Dr. Eugene Clark Library in Lockhart, Texas, the oldest library in Texas that has been in continuous use. The contest is privately funded. All the entry fee money goes to the Friends of the Library.
We have received some great stories in our three years of running this contest. They have come from all over the United States, Canada, and even from as far away as South Africa, Australia and England. We even get stories from Texas, though not as many as we would like. (Actually, only the correspondence coordinator ever knows who wrote the stories or where they are from until the contest is over. We did get asked once if we were Texas-biased. The answer is "no".)
We get asked a lot of other questions too. Yes, it has to be a ghost story (not a zombie story or a devil story, etc). Yes, it can be gory. It can also be funny or touching or even, dare we say it, scary. You should type it in normal fonts and font sizes, doublespaced on one side of the paper (although we have seen entries that do none of the above). We will not reject you for not following the rules, except for the following: word count limit (5000 words and less), postmarked date of entry (no later than October 1), and lack of ghost in the story (you'd be surprised). And the Junior contest is only for ages 12-18.
Unfortunately for the judges, the majority of the entries will arrive the week the contest ends. Why not add yours to the pile. We'd love to read it. Full rules can be found at http://clarklibraryfriends.com and at http://rixcafetexican.com under the desserts tab.
WHAT I READ THIS WEEK–Number The Stars by Lois Lowry.  And God Save The Mark by Donald E. Westlake.  And Mile 81 by Stephen King.