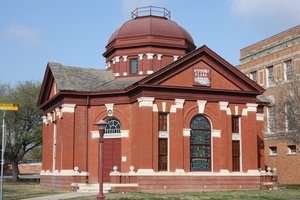 The deadline for entries for the 2010 Scare The Dickens Out of Us ghost story contest is October 1. You've got less than two weeks to go if you're serious about the $1000.00 first prize, or even the $500.00 second prize and $250.00 third prize. Plus there's the Junior contest with the $250.00 first prize. Full rules are available at www.clarklibraryfriends.com.
We've received entries from Australia, Canada, and the U.K.  A lot of writers from Florida are entering. California is represented. We've had entries from several other states, but very few so far from Texas, and Texas pretty much cornered the market for winners last year. Of course, if this year is anything like last year then we will be getting a whole lot of last minute entries on September 30 and October 1. Maybe that's where the Texans are.
THE LIBRARIAN ON THE ROOF!  By M.G. King and Illustrated By Stephen Gilpin.
The photo illustrating this blog post is of the Dr. Eugene Clark Library in Lockhart, Texas. The Scare the Dickens Out of Us ghost story contest entry fees go to the Friends of the Dr. Eugene Clark Library and are used to support this library's programs. The children's picture book Librarian On The Roof by M.G. King is also about the Dr. Eugene Clark Library. Based on a true incident about when the town librarian took to living on the roof of our 100-year-old library in order to raise $20,000 for the library's children's section, this colorful little book is a gem of history writing. And if you've ever been in the Clark Library you will recognize it in the book's cheerful illustrations–from the stained glass windows, to the stage with the stuffed chairs on it, and even the scene of downtown through the open door. Published by Albert Whitman & Company www.albertwhitman.com , it is also available through Amazon.com.
Blog photo by Roxanne Rix.
What I've read this week.  Well of Shiuan by C.J. Cherryh. St. Dale by Sharyn McCrumb. I can highly recommend St. Dale.  Who would ever have thought I'd love a book about NASCAR driving?