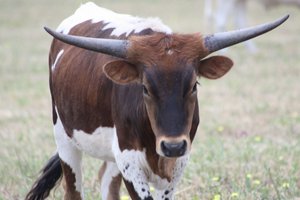 As far as writing went, 2010 proved a very good year for me. Late in December my horror short story "When Gymkhana Smiles" was accepted for future publication by Fantastic Horror, an online short story site. I couldn't have received better news. Also in December, The Cowboy's Baby came out at blurb.com as a paperback book. It looks just great. It was published as a Kindle book on Amazon.com in July and looks good there too. And I just finished the 80,000-word first draft of my next novel, Arroyo, a pulp adventure Western with horror aspects. That's a lot of writing for me.
Either with this blog or the next I will showcase the paperback The Cowboy's Baby in a separate section with a link for purchase.  But it's pretty easy to look up. Blog.com/then bookstore/then literature and fiction/then The Cowboy's Baby. Check it out on Amazon.com for Kindle too, also easy to find under Kindle/then ebooks/then The Cowboy's Babyby Gretchen Lee Rix.
I'll let you know when my short story is out.
I'm going to take a month off from writing fiction (probably a mistake but I'm doing it anyhow). Then I'll begin the process of revising Arroyo. And I think I'll write a new short story.
Best wishes for all of you.
WHAT I'VE READ THIS WEEK—The Italian Secretary by Caleb Carr.
Photos by Roxanne Rix.  Follow me on Twitter and join me on Facebook. Read chapter one of The Cowboy's Babyby scrolling back to the beginnings of this blog site. Read a later chapter by going to the notes section of my Facebook page. Buy The Cowboy's Baby in either format (ebook or paperback)and have an enjoyable read.
HAPPY NEW YEAR