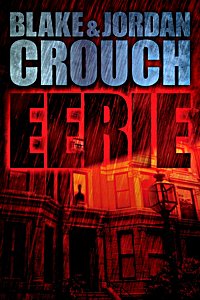 IF YOU LOVE DEAN KOONTZ, YOU'LL LOVE BLAKE AND JORDAN CROUCH and their new thriller EERIE.
EERIE is a haunted house novel for adults, almost impossible to put down. That said, the story turns around on itself at the end, taking us to totally unexpected places. Which is why I'm comparing EERIE to recent Dean Koontz.
Police detective Grant Moreton, never fully recovered from a brutal car accident in his childhood, abruptly finds his estranged sister Paige working out of her house as a high-dollar prostitute for successful businessmen. Businessmen just like some of the men who've recently disappeared in the case he is investigating. She doesn't welcome his return, but once reuinted Grant is bound to the house and its secrets just as she is. They literally cannot walk out the front door to freedom, and it's killing the girl.
There's something in her bedroom that won't let them go at any price. But it's sending her clients away, more like zombies than living men. Why?
Compelling thriller/horror, EERIE  doesn't go where you expect. It's nice to see that in a novel every once in a while. Available in all the usual places:
You can find my books and short stories at https://www.amazon.com/author/gretchenrix . The closest thing I've written to this genre is When Gymkhana Smiles.
WHAT I READ THIS WEEK— The Old Vengeful by Anthony Price.  Thoroughly Kissed by Kristine Grayson.  Eerie by Blake Crouch and Jordan Crouch.