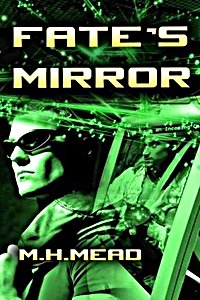 FATE'S MIRROR by M.H. Mead.
A futuristic cyberpunk novel even readers who don't like science fiction will be happy with.
I love it when a book's so good you can't put it down.
In his head and on the job, computer hacker Morris Payne is a swashbuckling, wisecracking and invincible pirate. And I do mean pirate. In reality, the man can't leave the house. He's afraid of wide-open spaces and subject to crippling panic attacks. But so what? He stays home where he has everything he will ever need. Well, the food has to be delivered.
Then while working with an ex-lover (yes, he used to get out and about a little more) on a secret government project to save the world, she is murdered and his house explodes. Morris has no choice but to seek help and shelter from the wide world outside his experience.  He thinks someone is trying to kill him. He's half right.
This is a very good action/adventure science fiction entry into the territory first explored in Neuromancer all those decades ago. FATE'S MIRROR abounds with excitement, tension and mystery. Even if you don't read science fiction, this is a great adventure novel, thriller, and even a  bit of a romance. The characters are appealing and it really is a page-turner.
I'm going to shut up right now and go see what else M.H. Mead has written. I bet I'll love it too.
Oops. Hey you two, write more!