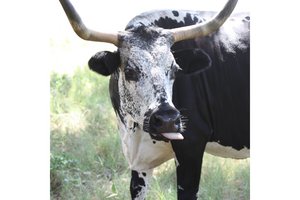 If you are a big fan of Harlan Ellison or someone who collects famous writers' memorabilia, then check out the link under the longhorn photo. HE's put one of his original typewriters up for sale. Wish I had the money and the space, but I don't. I have met Harlan twice. He was my favorite writer for a very long time.
http://www.photographyhistory.com/harlanellisontypewriter.html.
Different topic—just finished reading Shooting Loons by Margaret Maron.
Other interesting site to visit– www.author-debsanders.com  .
THE COWBOY'S BABY continued
Marcia leaned forward, careful to keep the top of her blouse from gaping open, he noted, and placed the papers on his desk. Then she sorted them into separate piles and pulled the top sheet forward on each.
"This is it," she said.
"To cut a long story short, there's nothing we can do. Mrs. Lennon owns the land all right." She huffed with exasperation, blowing at her new bangs again. "How did we ever get ourselves in such a mess? Christ! Didn't anyone hire surveyors? Didn't we use lawyers? Did they do this on purpose?"
Startled, Ellison looked at her passionate face.
"When was the vote taken? Do you remember?" he asked, trying to contain his anxiety.
"It's in that pile somewhere," she replied. "It was a legal vote. The board got the requisite approval. Everything looks right. But that damned back nine is right in Mrs. Lennon's property plat, wall or no wall," she said, voice rising. "The land is hers, Ellison, and I don't have the slightest idea why she let it happen. Or what to do about it."
She paced rapidly back and forth in his office, whacking at the chair backs as she passed. When he thought she was done he opened his mouth. Marcia interrupted.
"I guess this will mean our jobs, right?" She slammed at another chair. "Even if we had nothing to do with it?" Another chair. "Damn and damn and damn!" she cried. "I like it here. I've bought a house!"
"Calm down," he said, appalled at the burst of emotion, surprised at her attack on his office furniture; this was so unlike his efficient, pretty and likable assistant. "We're not going to lose our jobs," he said. "And yours shouldn't even come into it, if we did. Even if I did," he amended.
The wall-long picture window of Ellison's office faced the front nine holes of the original, and charming, he'd always thought, golf course. He saw green, green and green, varying shades of, just as it should have been. Soon afterwards Marcia stalked out. He narrowed his concentration and studied the scene at the first tee, trying to get his mind off their problems for just a second and off Marcia's emotional outburst. I can't believe we built the back nine on that woman's ranch, he fumed, failing to distract himself. He took a deep breath and forced himself to focus on the golfers in his sight. An hour later he was still watching them.
The Cowboy's Baby by Gretchen Lee Rix, copyright 2010. To be continued… Blog photo by Roxanne Rix