When I first began thinking of publishing to Kindle at Amazon.com I was reading J.A. Konrath's blog pretty regularly (as in all the time) http://jakonrath.com/writers.htm and I also bought a copy of his book The Newbies Guide To Publishing. Following his progress as he works his way into e-book stardom is both fascinating and educational. If you're a writer (or want to be one) you should be following Mr. Konrath.
Later I rediscovered Dean Wesley Smith http://deanwesleysmith.com . His Killing The Sacred Cows of Publishingarticles are a revelation. Everyone should be reading this. And all writers should also be reading Kristine Kathryn Rusch at http://kriswrites.com. You will be very, very sorry if you don't follow what is going on through both these respected writers.
For Word help, check out Terry's Place: Word Formatting at http://terryodell.blogspot.com. She'll save you a lot of frustration and trouble.
For short story markets go to http://duotrope.com.
That's enough links for one time.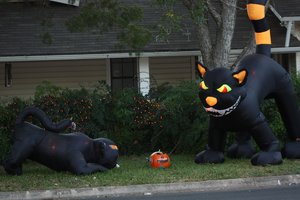 WHAT I READ THIS WEEK—Dinner On A Flying Saucer by Dean Wesley Smith. The Dead Butler Caper by Frank Norman. The Lost Symbol by Dan Brown. and Follow the Stone by John Locke. Seems I had a lot of reading time on my hands, but really, all of these were short books except the Dan Brown.
Photos by Roxanne Rix
P.S. In less than one month we will begin accepting entries to Scare The Dickens Out of Us, the ghost story writing contest benefiting the Dr. Eugene Clark Library in Lockhart, Texas. Check the rules at http://clarklibraryfriends.com.
P.P.S. My novel The Cowboy's Baby is available as a Kindle e-book at  http://amzn.com/B003UYUVZC