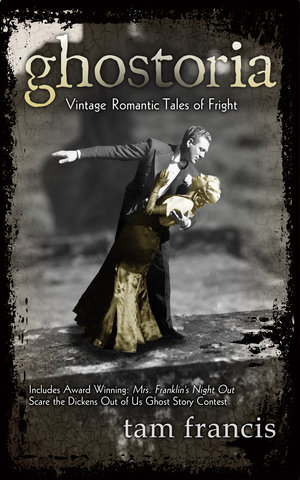 Ghostoria, Vintage Romantic Tales of Fright, is my friend Tam Francis's first published short story collection, and I had a hand in it. (Aside: Though primarily a ghost story collection, it also contains horror stories. My hand is not literally in any of the stories, I promise you.)
Tam wasn't anyone I knew when she started writing these stories. She submitted to the Scare The Dickens Out of Us ghost story contest my sister and I started and were preliminary judges for in 2010, then 2011, and then in 2012 when I thought she might actually win the thing. That story, Mrs. Franklin's Night Out, is in this book.
We met finally through the Gaslight Baker Theatre where she's an actress, and then when I joined her writer's critique groups more than a year ago we became friends. I made editing suggestions to almost all the stories in this book (some of which I see that she ignored).
Enough of my disclaimer.
About three or four of the twelve stories in this volume are stunning ghost stories that I hope make it to a wider audience. I am so extremely proud of Tam Francis for these, and the rest of her tales are entertaining. (I'm proud of her for those, too). Many are stories of a more polite and refined era she's calling vintage, and most of them have women protagonists.
They'll send chills down your spine, or make you cry. They'll while away the hours and take your mind off the nightly news. And to pay tribute to the United Kingdom's Christmas ghost story tradition, I'll remind everyone that Ghostoria would make a great Christmas present for someone.
WHERE TO BUY
You can find my books at
http://amazon.com/author/gretchenrix
WHAT I READ THIS WEEK:  Ghostoria by Tam Francis.