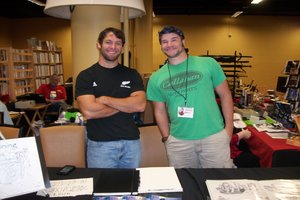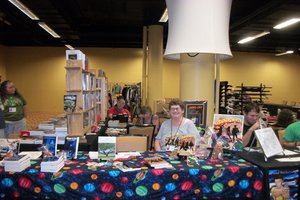 FREE COOKIES AND ALMOST- FREE SKETCHES AT ARMADILLOCON.
We had a real stroke of luck at ArmadilloCon last weekend when a costume vendor wanted to change tables with us and we ended up next to Dead Reckoning comic book artist and writer Danny Allain and his publishing partner Paul Soileau (http://facebook.com/DeadReckoningComic) . Our marketing plan was to give out free cookies created for us by 2Tarts bakery in New Braunfels (http://2tarts.com) to resemble characters in my paranormal western/horror/pulp/action-adventure/alternate history/legendary love story and pseudo science fiction novel ARROYO (http://amzn.com/B0067NCEJ4) . Their marketing plan was to sketch anyone willing to pay $5.00 as a zombie (or to draw anything else you wanted).
Cookies first. We had Daniel cookies. We had Ramona cookies. We had cookies that were supposed to be Sinjin cookies but that didn't turn out so good (they looked like a certain part of the male anatomy walking on a pair of legs, shall we say). We had the talking cats of Lockhart cookies. We had the Dr. Eugene Clark Library cookies, the flying saucer cookies, the Bigfoot cookies, and ghosts and haunted houses to promote Patrick Kampman's two books, too (http://patrickkampman.com) . Not expecting to sell copies of  my romance novel The Cowboy's Baby  at a science fiction convention (but we did, we did!) we did not bring the infamous toilet paper cookies for it.
The cookies worked.
Sketches second.  The two young men with their comic book sitting at the table next to us did sketches of everybody as zombies to attract attention. We didn't want to be zombies, so we hired Danny Allain to illustrate a scene from each of my novels. Turns out he's a hell of a good comic book artist.  He gave us a sketch of Ramona laboring in the ARROYO basin with the possessed wooden Indian strapped to her back.  He sketched out the goats fighting over the toilet paper scene with the bull from THE COWBOY'S BABY.  And finally he gave us the Boo Radley dog in the graveyard sketch representing my new mystery novel TALKING TO THE DEAD GUYS.
I don't think the zombie sketches worked as well as the cookies, but I bet they'll be remembered and sought out in the future because of them.
Just offhand I'd say that cookies and sketches did a lot better for the bunch of us than bookmarks, key-chains,  fountain pens, pencils and postcards, the usual promotional materials for everyone.  Was it cost effective? Well, no. Those special cookies cost us a bundle, but our goal was to sell my books not to make a lot of money.  The guys?  Well, in our opinion they priced their work too low, but they met a lot of people who'll remember them.  And we bought their comic book.
The point to all this:  if you are doing a promotional activity, make sure you do something interesting or valuable for your customers (and keep your fingers crossed that you end up next to someone else doing  innovative and interesting things).  And have fun with it.  There are a lot of women who are going to remember those Sinjin cookies.
WHAT I READ THIS WEEK—Red Church by Scott Nicholson.  The Sins of the Fathers by Lawrence Block.  Carrie by Stephen King.  Thunderball by Ian Fleming.
Photos by Roxanne Rix and Gretchen Rix.