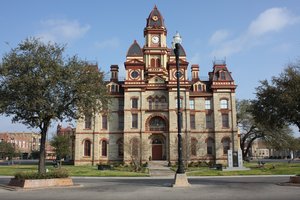 I have just joined Facebook! I haven't gotten very far, but I have put up Chapter 16 of The Cowboy's Baby for all of you to read. It's in the notes (you can tell how much I know about Facebook, right?). And if you want to read more, you can get it as a Kindle e-book at Amazon.com. Plus, pretty soon all of Chapter 1 will be available on this blog. I'm going to use my Facebook page to put up a lot of Roxanne's neat photos of Texas, too.
The Scare The Dickens Out of Us ghost story contest is all over (except for selecting the winners). The Junior contest entries went to the Dr. Eugene Clark Library staff more than a week ago for their verdict. The main contest entries that went forward to the final judges were put in the mail Thursday. They will make their decisions in time for Thanksgiving. I will be contacting everybody else beginning November 1.
Getting your story rejected isn't fun, but it  doesn't necessarily mean that your story was bad; it might mean we just received too many stories that were much better. Or, maybe you didn't write about a ghost in this ghost story writing contest! Yes, we did get a few. Don't let rejection stop you from writing, or from submitting. Check out www.duotrope.com/ for the markets. It's fun and you learn a lot about publishing.
On another topic. They're filming a movie in Lockhart this week. It's something that happens pretty often here (Lockhart's an unusual-looking town), but I've never run into it before. Trailers, trailers everywhere and not a star to see. I didn't/don't expect to see the actors, but the movie has Jack Black, Matthew McConaughey and Shirley MacLaine. They've picked the right week for it—the weather is absolutely gorgeous.
Oh, Oh. Speaking of actors. I'm on Twitter, too and Edward James Olmos just started "following" me! I can't think of a single celebrity I would like to have on my list more than Olmos.
WHAT I'VE READ THIS WEEK:  Dodging Bullets by Joe McKinney. And The Science Fiction Hall of Fame Volume Two A edited by Ben Bova.
Blog photo by Roxanne Rix. This is the Caldwell County courthouse in Lockhart, Texas.