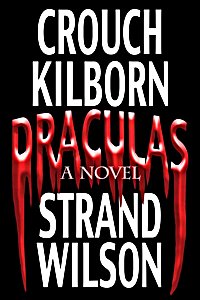 Violent, gory, campy, and most of all, fun! It's Draculas, the new e-book horror novel for Kindle coming to life October 19. A gang of four writers made this up between them, unleashing a type of vampire not much seen recently—more like a shark with legs than the brooding Lord Byron wannabe that most bloodsuckers have been since the birth of Bram Stoker's monster.
A small hospital in a small town has the ill fortune to have Mr. Moorcook die in the ER and morph into the patient-zero draculas. (They call the vampires draculas here.) Immediately it is a fight to the death between the quick and the dead and all bets are off as to who (if anyone) will survive the night. Blake Crouch, Jack Kilborn, Jeff Strand and F. Paul Wilson are responsible for what one of their characters calls this 'homicidal monster infestation' of a thriller. My favorite line—"Once you become a pickle, you can't go back to being a cucumber."
If you enjoy the SyFy channel's made for TV monster and disaster movies, then Draculas is definitely the book for you. Fun, campy, gory and violent. Good job, guys.
http://www.amazon.com/DRACULAS-Novel-Terror-ebook/dp/B0042AMD2M
WHAT I READ THIS WEEK—Draculas by Blake Crouch, Jack Kilborn, Jeff Strand and F. Paul Wilson.