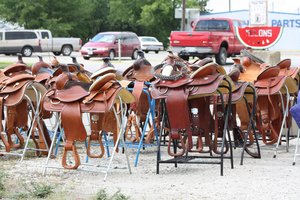 I didn't get to go to Aggiecon, but my sister Roxanne and our friend Janet Christian went in my place.
For those of you who don't know,  Aggiecon is a science fiction convention. And one that's been in existence for more than forty years.
Roxanne  sold my books in the dealer's room all weekend (and Patrick Kampman's books) and Janet sold her books. They had to work pretty hard at it, but there was a lot of opportunity for people-watching. Enough of the  attendees wore costumes to make it quite interesting. I'm really sorry I missed that.
Roxanne sold 31 books! 
That's a lot of sales at a small event that was more geared this year to gamers and cosplay than books and movies.
People bought Arroyo and Talking To The Dead Guys, and we even sold a couple copies of my romantic comedy novel The Cowboy's Baby. We sold Patrick Kampman's YA horror novels. And Janet sold her mystery novel The Case of a Cold Trail and a Hot Musket and her new science fiction book Born Rich.
From what Janet and Roxanne said, their experience mirrored the other science fiction conventions we've attended as book saleswomen (Armadillocon and LoneStarCon 3). You have to do some work to get people to come on down. We gave away cute little red wind-up dragons as a way to get people to our booth. Janet gave away chocolate coins. In the past we've given out cookies specially made to compliment the books.
I'll post some photos next week.
You can see my books at
http://amazon.com/author/gretchenrix and http://barnesandnoble.com/c/gretchen-rix and http://smashwords.com/books/view/105559 and http://kobobooks.com/search/search.html?q=gretchen+rix. Or ask at your local bookstore. They can be ordered.
Here you can find Patrick Kampman's books
http://amzn.com/B00INHZ7BE. Here is Janet's latest http://amzn.com/B00IWVE834
WHAT I FINISHED READING THESE PAST FEW  WEEKS:  To Iraq and Back by Jessica Scott.  Inner Harbor by Nora Roberts.  The Goblin Brothers Adventures by Lindsay Buroker.  Street Justice by Kristine Nelscott. Eulalia! by Brian Jacques. Killing The Top 10 Sacred Cows of Publishing by Dean Wesley Smith.
DARWIN'S CORNER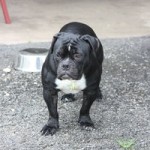 She can leap onto couches in a single bound (It's really interesting to watch). Chew up our leather chairs before we notice it (What's the dog whisperer's phone number). And prefers canned dog food to dry (No surprise there).  Feels like she's been our dog forever.