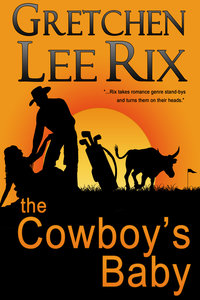 So far there's THE COWBOY'S BABY and ARROYO, and there's TALKING TO THE DEAD GUYS and THE COWBOY'S BABY GOES TO HEAVEN as novels, and the short stories TRUEPENNY, THE RETURN OF TRUEPENNY, SAINTS & SINNERS, THE TAKING OF RHINOCEROS 456, and WHEN GYMKHANA SMILES, and the short story collection (all the previously mentioned stories plus one) TWISTED RIXTER. All published to Amazon.com for the Kindle.  All fun to write and all fun to read. Three of the novels are also available through Smashwords and the Barnes & Noble Nook.
I've learned to sit out under the sun at the local farmer's market and sell the paperbacks. I've had fun selling at Armadillocon, and my sister has branched out to other science fiction/fantasy/horror conventions with my books.  I'm writing two more novels for 2014, and maybe another story collection that combines the two Central Texas settings from The Cowboy's Baby and Talking to the Dead Guys.
I've met people and made friends on Twitter I'd never in the world have heard of otherwise. They've been a pretty helpful bunch, all told. Facebook has been interesting. I follow the blogs of Dean Wesley Smith, Kristine Kathryn Rusch, J.A. Konrath, and The Passive Voice. I'm part of a writer's critique group in town and belong to Romance Writers of America.
My books have sold to the United Kingdom, Australia, Spain, Switzerland and Canada. And they've sold to all the Amazon.com countries except Mexico. Some day I'll find a reader in Mexico.
This is a photo of my feet back when these shoes were brand new and I still wore this dress out in public. The sand is Florida.
And I' m getting ready to change the focus of this blog. I'm going to try my hand at personal essays having nothing to do with writing, with boosterism (of Lockhart, Texas), and of dog and cat pictures. I'm still writing novels and short stories, I'm just probably not going to tell you how. You already know how.