About Gretchen Lee Rix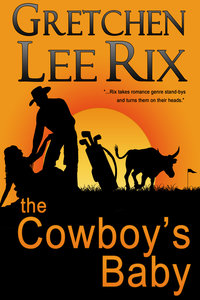 Work in progress (and isn't that the absolute truth!)   
So far there's THE COWBOY'S BABY and ARROYO as novels, and the short stories TRUEPENNY, THE RETURN OF TRUEPENNY, SAINTS & SINNERS, THE TAKING OF RHINOCEROS 456, and WHEN GYMKHANA SMILES all published to Amazon.com for the Kindle. Coming up in the next couple of months is a third novel,  TALKING TO THE DEAD GUYS, a Boo-Done-It mystery. All fun. All fun to write and all fun to read. The novels are also available through Smashwords and the Barnes & Noble Nook.  
I've learned to sit out under the sun at the local farmer's market and sell the paperbacks. I gave my first reading from THE COWBOY'S BABYlast year at a local resale shop. My first "talk" as a writer will be this September. My novels are in at least two libraries (I made sure of it by giving them copies), and if I understand my Smashwords stats correctly they're in two more libraries, somewhere.  
I've met people and made friends on Twitter I'd never in the world have heard of otherwise. They've been a pretty helpful bunch, all told.  
My books have sold to the United Kingdom, Australia, Spain, Switzerland and Canada. I made enough in royalties with THE COWBOY'S BABY to have qualified for the Published Authors Network in the RWA  but it's not allowed because TCB is self-published and not  traditionally published.