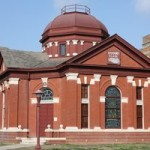 RIX CAFE TEXICAN (and we're not a restaurant) will have a presence at this year's World Science Fiction Convention. Why? Mostly because it's just an hour away in beautiful (but hot) San Antonio, Texas. And it starts tomorrow. Plus I have a book to sell.
We're giving away aliens (while supplies last) and selling my books. We're also selling Patrick Kampman's books. And we're selling Christmas cards for the Friends of the Dr. Eugene Clark Library.
ARROYO is the only "science fiction" book I've written (so far), and it's more horror/fantasy/western/pulp/action-adventure than science fiction. But it does have that flying saucer on the cover.
Here's a continuation of the excerpt (which is chapter 12) from last week. Copyright by Gretchen Rix.
"You're damned right," Daniel said flatly. "You won't."
Rose-Sandra ignored him. "Have you heard of Dracula yet?" she asked, addressing the both of them. "Out in the sticks, the boondocks, this wilderness of Texas." She spit out the word "Texas" like a rotten pip.
"No," Ramona admitted.
"Yes," Daniel said. "Haggard told me of it."
Rose-Sandra appeared to be surprised, but she continued her prepared speech with little to no hesitation. "I won't drink your blood or turn you into a vampire, either," she told them.
"You bet your booty you won't," Daniel countered.
Rose-Sandra huffed in irritation. "And Father Damien? " she asked. "Have you also heard of the work of Father Damien?"
Daniel gave her a contemptuous glance, narrowing his eyes and focusing only on her. "Stop!" he demanded. "Just stop. You've told us from hell and gone what you won't do," he challenged. "Just what will you do? What do you want with this woman here?" he asked. "Enough of your childish games."
Roes-Sandra made her own noise of contempt and pulled herself up from the stool. Her voluminous skirt swallowed Ramona instantly. Daniel yelled when she disappeared, but stopped at the sight of the sharp knife displayed in Rose-Sandra's white, white hands.
"No need to panic," she told him, again smiling that toothsome smile at them. "I only want a small favor of you, my dear," she reassured Ramona while watching Daniel with stony eyes. "Surely you won't begrudge this lost woman her one request. Not after Sinjin went to such pains to bring you to me."
You can see more of ARROYO at
Have fun at Lone Star Con 3 everybody.
Photo by Roxanne Rix.