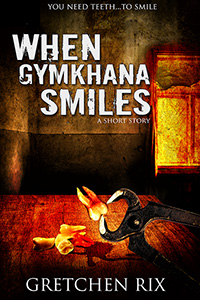 FREE, TODAY ONLY.  WHEN GYMKHANA SMILES 
WHEN GYMKHANA SMILES, run. This young black girl's survival depends on her dental health; yours on keeping out of her way. As her Southern Gothic horror of a family prowls the coast waiting on her transformation, no one realizes what the old man plans. And Gymkhana never wanted her boyfriend involved. Not sitting tied to that chair. Whether you like your horror stories nasty or merely scary, this one leaves your teeth on edge.
This is a short story.