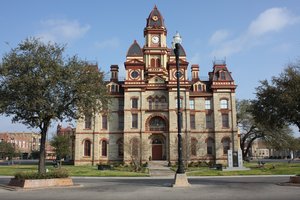 Lockhart, Texas is celebrating its 21st annual "A Dickens Christmas" this Friday December 3 and Saturday December 4 on the courthouse square and at the Dr. Eugene Clark Library. It's small town fun to be sure; all entertainment is free (unless you decide to stay for the Gaslight-Baker comedy "Fruitcakes" Saturday night). Lockhart has a new Best Western motel right near Walmart.
Friday night at 730 the Dickens Christmas Lighted Parade kicks off. Many participants in the festival dress in Victorian costume and stroll the streets.  After the parade, go out to the arts and crafts tents where my sister and I, along with Jody King, will be helping new children's book author M.G. King sell her picture book Librarian On The Roof only half a block away from where the true life adventure took place. Local musician Fletcher Clark will perform holiday music in the historic Clark Building right after the parade too.
On Saturday, the Kings and I (and Roxanne) will be back selling Librarian On the Roof.  Here's your chance to meet the author, then go on to get something good  to eat at the food vendors tents or at one of our famous barbecue restaurants or any of Lockhart's other restaurants including The Baker's Rack right on the square. All through the day various Lockhart school choirs will sing. The festival also boasts a harpist, ice sculpture, free carriage rides, wiggle waggle train rides, the exotic animal zoo show, street juggling, glass blowing, POLYNESIAN DANCERS, a petting zoo, magic show, fencing demonstrations, gymnastics and martial arts demonstrations, and lots of stuff to buy. And there's a Dickens Tea at the First Christian Church.
It ends with the lighting of the yule log in front of the library at 7. Before that, the winners of the Scare The Dickens Out of Us ghost story contest will be formally announced.
If you have never seen the Caldwell County Courthouse, this is a great chance to walk around on the lawn. If you have never seen the Dr. Eugene Clark Library, it's open to you this Saturday.
Come on down. Lockhart is an easy drive east of Austin. It's close to Bastrop, San Marcos, Luling, Martindale, Gonzales, and even San Antonio. We've got our Victorian dresses to show off, not to mention all the neat old houses near downtown.